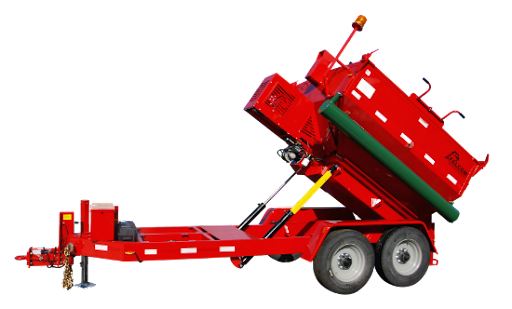 Hot boxes are an indispensable piece of equipment that can help reduce operator fatigue, increase productivity, and keep the asphalt at optimal temperatures throughout the day.
Many people often ask what an asphalt hot box costs and the short answer is that it depends on a few things. Read on to learn more about the primary considerations for pricing a hot box.  
Asphalt Hot Box Price Quoting Factors 
There are several important questions that you'll need to know the answers to before you can get an accurate asphalt hot box cost quote:
How do you handle your patching operations now, and what methods do you use to fill potholes?

Are you repairing potholes, utility cuts, or both?

What materials do you use in your patching operation? Do you use hot mix, cold mix, or both?

Do you only plan on using it to transport material and keep it at the optimum temperature all day? Or, do you want the ability to reclaim or recycle asphalt materials? 

What do you require for your asphalt program?

Do you plan to use the machine for conducting temporary repairs or more permanent repairs?

Do you have to go out for a bid, or can you utilize state/national contracts or co-ops? 
Price Quoting Factors for Trailer-Mounted and Truck-Mounted Hot Boxes
Trailer-mounted hot boxes are extremely popular due to their versatility and affordability. They are available in 1 ton to 6-ton capacities. The 4 ton is the most widely used trailer model in the market. Truck-mounted hot boxes and asphalt recyclers can slide into the bed of a truck and are available in 2,3,4,5,6,8, or 10-ton capacities. Truck-mounted hot boxes can be configured to utilize the truck's dumping capabilities or with a self-dumping system supplied with the hopper. Customized sub-frames for hook lift, roll-off, or chassis-mount systems are available.
When pricing either trailer-mounted or truck-mounted hotbox, there are a few questions you'll need to answer:
How will you use the machine?

What materials will you use? 

What size is required?

Does a trailer work for your operation, or would you prefer a slip-in or hook lift?

If you prefer truck-mounted, do you have a dedicated truck, and how is it configured?
Other Options Contributing to Asphalt Hot Box Cost
Many options will improve the overall functionality of your asphalt hot box. 
The three most popular upgrade packages are the tack tank and spray system, hoist for the compactor (with electric winch), and various lighting upgrades. A variety of additional options are available.  
We offer a Quick Ship package which includes machines configured with our most popular specification package. This package includes a battery charger, 24-hour timer, release agent sprayer basket, night work lights, strobe warning lights, and a 3 position tool holder. We have a list of additional customizable bolt-on options that can be added at the time of order or they can be easily added in the field at a later date.
How to Keep the Cost Down
There are several things that you can do to help keep the overall cost of an asphalt hot box down, such as:
Order a standard quick ship and add options at a later date. This will allow you to get the hot box as soon as possible while retaining the ability to add options in the future—an ideal choice for companies or organizations looking to position themselves for operational growth or upsizing. The options are "bolt-on" making for easy installation at a later date.

Take advantage of equipment leasing options. 

Consider purchasing a well-maintained

used rental unit

. 

You can also take advantage of the

Sourcewell national contract

.
Asphalt Hot Boxes and Benefits from Falcon Asphalt 
One of the biggest surprises our customers find in our pricing is that it's much lower than the equipment they're used to buying. There are many benefits you'll get from a hot box, including:
Keeping material at an optimum temperature all-day

Having material at the proper temperature so it stays in the hole longer and provides a superior patch (the first two points are repeating)

Reduction of trips to repair the same hole

Ease of use for the operators

Increase crew productivity

Ability to hold the material overnight
Which Asphalt Hot Box is Right for You?
The best way to determine asphalt hot box cost is to understand the models, look over the options, and decide what is a must-have—and what is a nice-to-have. Hot boxes are far less expensive than subcontracting out the work and will provide you with the ability to perform emergency repairs at a moment's notice. If you contact us we will put you in touch with our local dealer or our local regional manager.
Learn more about equipment options by clicking the box below.