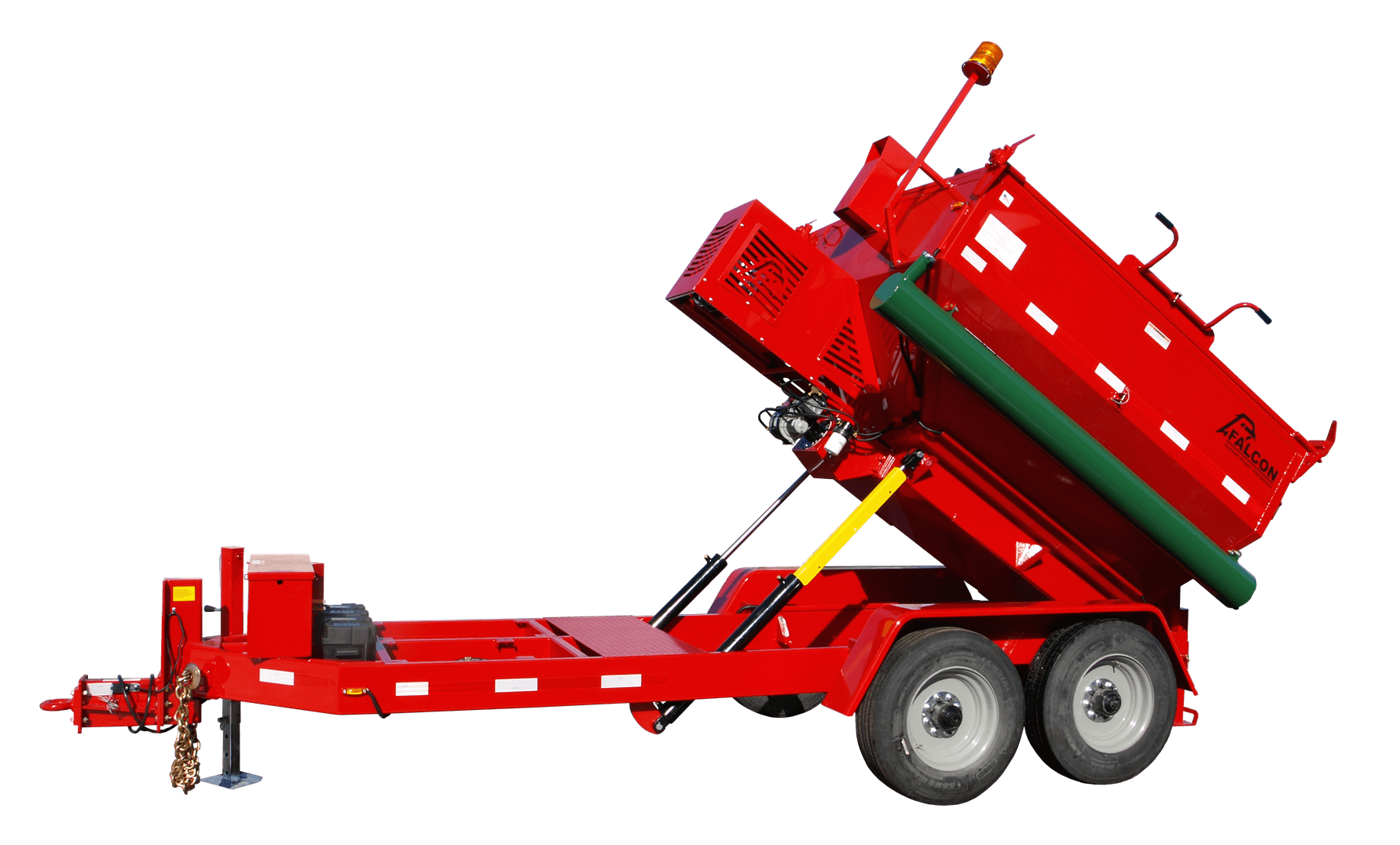 Falcon 6-Ton Asphalt Hot Boxes enable your work crews to quickly and efficiently fix potholes, patch asphalt, and repair utility cuts. The wide range of standard features will add immense value to your patching operation.
All 6-Ton Asphalt Hot Boxes have a two-burner system making it possible to recycle asphalt. This feature significantly reduces waste while saving time and money.
Benefits of a Falcon 6-Ton Asphalt Hot Box
Around a quarter or more of asphalt hot mix will cool before crews can use it to patch holes—this results in significant financial loss and waste as the costs of asphalt continue to increase. Falcon 6-ton Asphalt Hot Box helps keep 100% of the hot mix at ideal temperatures throughout the work day—and up to 72 hours overnight.
A standard dump truck has a raised bed, which forces workers to shovel material in an awkward position. This causes fatigue and injuries while slowing down work to a crawl. Falcon hot boxes are designed with ergonomics in mind. The beds are at an optimal shoveling height, allowing crews to work longer without getting tired.
Falcon 6-Ton Hot Boxes come with the following standard features:
Battery charger package

Automatic temperature control

VIP technology

One-piece ceramic combustion chamber (diesel)

Diamond tread plate hopper access platform

Heated shoveling platform

12-volt deep cycle batteries

Dual burner recycling package
Hydraulic dump function

24 hour timer

Electric brakes with safety breakaway

17.5" tires

19' Frame

2 red and 1 amber light per side
Optional features include:
Hydraulic unloading doors

Bifold hydraulic loading doors

LED light upgrades including LED arrow board

30-gallon tack tank with spray system and hose reel

Basket for plate compactor
Wash-down system

Electric overnight heat

Hoist – manual or electric

Propane torch with bracket

Other customizable options are available
How Do Our 6-Ton Asphalt Hot Boxes Work?
A one-piece ceramic combustion chamber with a dual diesel burner helps keep asphalt at the optimal temperature for up to 72 hours. You can also transport cold mix, reclaim unused hot mix, and recycle asphalt chunks. Many safety features, including a patented VIP system to eliminate low voltage damage, will help ensure many years of trouble-free service. Falcon hot boxes are the most durable and versatile machines you can buy for preserving pavement.
Asphalt Repair Areas
The chart below will help you determine which hot box is right for your application.
| | | | |
| --- | --- | --- | --- |
| Type | Hotbox Size | Potholes Fixed | Pothole Depth |
| 2-Ton | 9′ x 9′ x 4″ | 80 | 1′ x 1′ x 4″ |
| 3-Ton | 11′ x 11′ x 4″ | 120 | 1′ x 1′ x 4″ |
| 4-Ton | 12′ x 13′ x 4″ | 160 | 1′ x 1′ x 4″ |
| 6-Ton | 15′ x 16′ x 4″ | 240 | 1′ x 1′ x 4″ |
Increased productivity, decreased waste, and an improved ROI make the Falcon 6-Ton Asphalt Hot Box the ideal choice for asphalt repair. The recycling and reclaiming features help to ensure your crews stay on the job—instead of wasting time while waiting in line at the asphalt plant. 
Contact us below to learn more about which Falcon hot box is right for your operation.