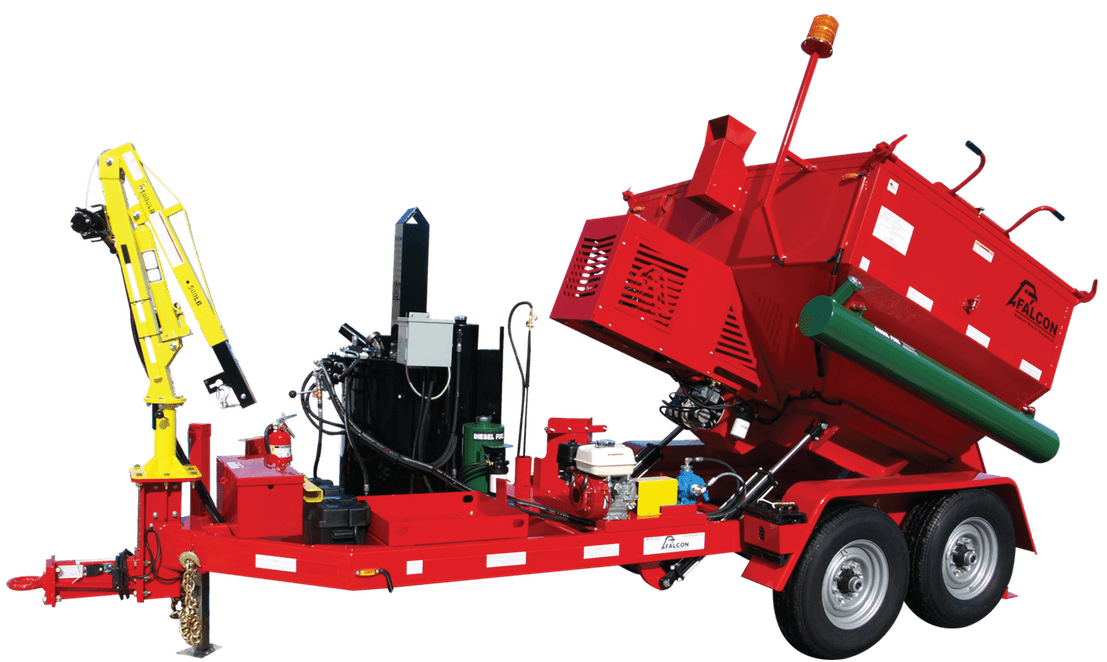 Falcon 4-Ton Hot Box Trailers make it easy for your work crews to repair utility cuts, patch asphalt and fix potholes. A wide range of equipment options provides unparalleled versatility.
The Hot Box and Recycler allow workers to transport both hot and cold mix while keeping it at the optimal temperature during the day—and holding it overnight for up to 72 hours.
Benefits of a Falcon 4-Ton Asphalt Hot Box
Around 20% to 30% of hot mix cools before it can be effectively used in patching operations. This results in significant waste and financial loss over time. A Falcon Hot Box Trailer will keep the mixture at the optimum temperature while reducing waste. You can also recycle asphalt chunks and millings and reclaim unused hot mix with an optional dual burner system.
A standard dump truck has a raised bed that puts workers in an awkward physical position as they shovel asphalt mixture. Falcon Hot Box Trailers have an optimized shoveling height which results in less wear and tear on the backs, arms, and shoulders of your crew. This translates to increased productivity and fewer Workers' Compensation claims.
You'll get the following standard features with a Falcon 4-Ton Asphalt Hot Box:
Battery charger package
Automatic temperature control
VIP technology
One-piece ceramic combustion chamber (diesel)
Diamond tread plate hopper access platform
Heated shoveling platform
12-volt deep cycle batteries
Conspicuity tape
Electric Brakes with safety breakaway
16" tires
Manual loading and unloading doors
LED lighting (2 red and 1 amber light per side)
Amber strobe light (one per side)
Single diesel or vapor draw propane burner
Optional equipment includes:
Dump Box
Dump Box Power Up & Power Down Hydraulic Capability
Dual burner recycling package (24-hour timer or 7-day timer)
Hydraulic loading and unloading doors
LED light upgrades including LED arrow board
30-gallon tack tank with spray system and hose reel
Basket for mounting compactor
Wash-down system
24-hour or 7-day timer
Short frame – 14' • XL frame – 18', 20'
Electric overnight heat
Hoist – manual or electric
Tire upgrade
Propane torch with bracket
Surge Brakes
Other customizable options are available
How Do Falcon 4-Ton Asphalt Hot Boxes Work?
A Falcon Asphalt Hot Box comes with a one-piece ceramic combustion chamber that uses a diesel burner to heat and keeps the asphalt at an optimized temperature for the remainder of the work day—up to 72 hours afterward. Your work crew will only have to visit the asphalt plant once during their shift. This translates into increased productivity and less time spent preparing for the day's work.
Asphalt Repair Areas
The chart below will help you determine which hot box is right for your application.
| | | | |
| --- | --- | --- | --- |
| Type | Hotbox Size | Potholes Fixed | Pothole Depth |
| 2-Ton | 9′ x 9′ x 4″ | 80 | 1′ x 1′ x 4″ |
| 3-Ton | 11′ x 11′ x 4″ | 120 | 1′ x 1′ x 4″ |
| 4-Ton | 12′ x 13′ x 4″ | 160 | 1′ x 1′ x 4″ |
| 6-Ton | 15′ x 16′ x 4″ | 240 | 1′ x 1′ x 4″ |
Falcon Trailer-Mounted Hot Boxes
A Falcon Trailer Mounted Hot Box will provide you and your work crew with an efficient means of keeping hot mix asphalt for the entire work shift and up to 48 hours overnight. The recycling and reclaiming feature allows you to save money and make fewer trips to the asphalt plant.
Contact us below to speak with one of our experts to learn more about which Trailer-Mounted Hot Box is right for your operation.