Dump Box
Product Info + Specifications
2 Ton • 3 Ton • 4 Ton • 6 Ton
Overview – Falcon's Asphalt Recycler & Hot Box
> Dump Box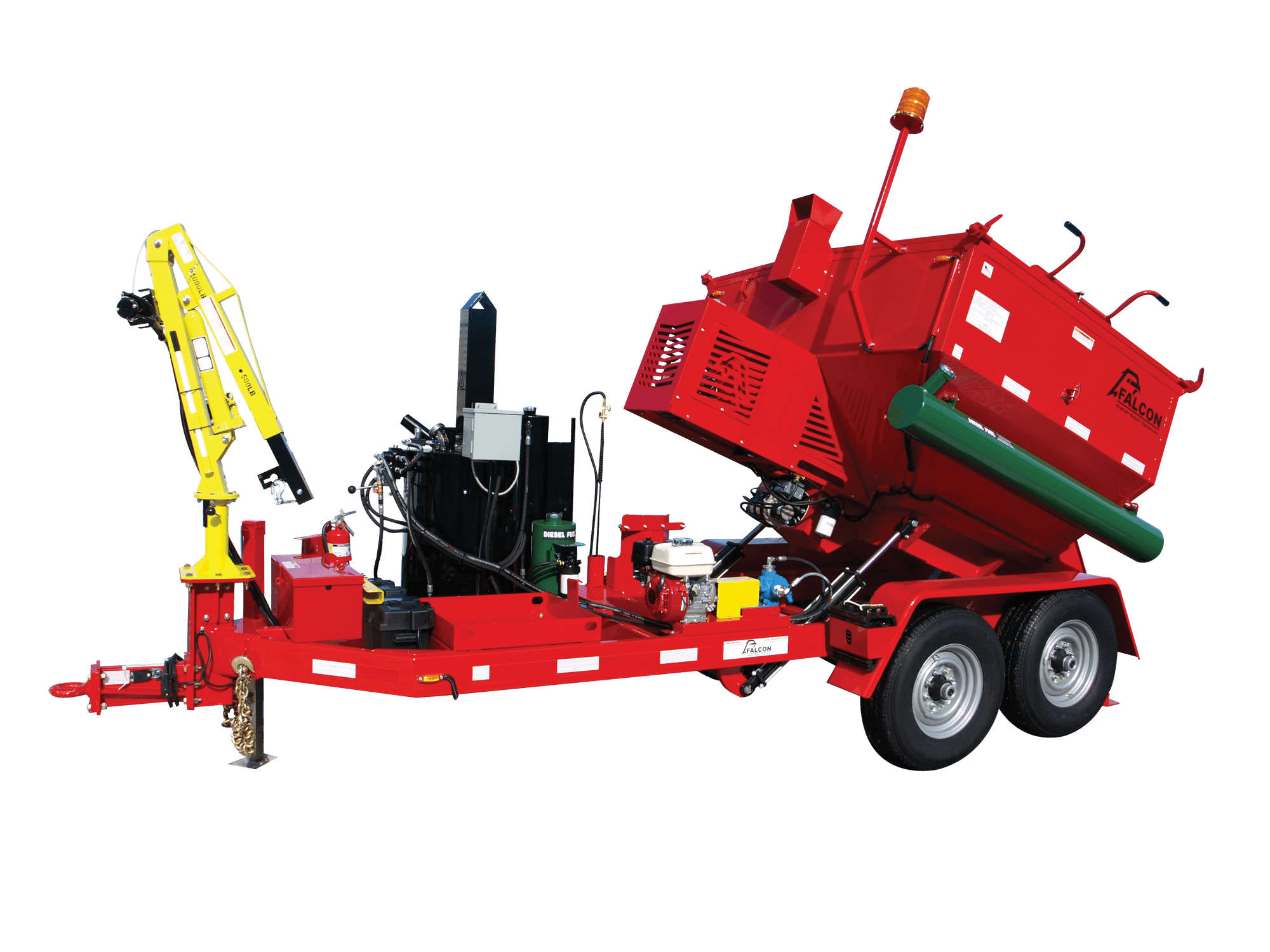 Falcon's most popular asphalt hot box & recycler dumps asphalt with the push of a button. By lifting the hopper, the dump box makes offloading asphalt easy. To ensure stability when the hopper is raised, each dump box is built on a tandem axle trailer frame that cradles a lowered hopper using body guides to keep it centered.  Dump box trailers are constructed with two hydraulic cylinders that raise the hopper and prevent twisting from an uneven load.  With this design, each cylinder acts as a safety backup for the other.
The dump box is available in capacities of 2, 3, 4 or 6 tons.
Like all Falcon models, a full line of options is available at the time of purchase or aftermarket.

2 ton – 9′ x 9′ x 4″ depth repair (80 potholes 1′ x 1′ x 4″ depth)

3 ton – 11′ x 11′ x 4″ depth repair (120 potholes 1′ x 1′ x 4″ depth)

4 ton – 12′ x 13′ x 4″ depth repair (160 potholes 1′ x 1′ x 4″ depth)

6 ton – 15′ x 16′ x 4″ depth repair (240 potholes 1′ x 1′ x 4″ depth)

2 ton – 9′ x 9′ x 4″ depth repair (80 potholes 1′ x 1′ x 4″ depth)

3 ton – 11′ x 11′ x 4″ depth repair (120 potholes 1′ x 1′ x 4″ depth)

4 ton – 12′ x 13′ x 4″ depth repair (160 potholes 1′ x 1′ x 4″ depth)

6 ton – 15′ x 16′ x 4″ depth repair (240 potholes 1′ x 1′ x 4″ depth)
Contact
2600 W Salzburg Rd
Freeland, MI 48623
Phone:  (989) 495-9332
Fax: (989) 495-9342
Sales:
(989) 495-9332
Service:
 (989) 495-9332