Finding the right asphalt patching equipment can be a significant headache. With countless options on the market, how do you know which hot box or patch truck is best for your needs? It's frustrating when vendors overwhelm you with complex features and specs without showing how their equipment improves your day-to-day operations.
Falcon hot boxes and patch trucks are unmatched regarding their practical design, real-world durability, and flexibility for your unique workflows. We manufacture high-quality asphalt repair equipment that empowers workers to achieve maximum efficiency, safety, and productivity.
Read on to discover why more municipalities and asphalt repair contractors choose Falcon asphalt repair equipment.
Falcon Design Advantages
Falcon leads the industry through our innovative features and designs. We engineer our hot boxes and patch trucks with key advantages that boost efficiency and ease of use for asphalt patching jobs.
Our hot boxes and patch trucks offer the following features and benefits:
Falcon's Patent Heat Management System – Achieves 92% fuel efficiency by incorporating a combustion chamber shape and construction that creates a tumbling action to force a complete blending of fuel, air, and heat.
Lighting Options – Many municipalities or states require or suggest specific lights or specific colors. We pride ourselves on meeting those needs regardless of what they are.
Voltage Indicator and Protector (VIP) – Running a 12-volt diesel burner below the required battery voltage results in no-starts, dirty CAD cells, increased fuel consumption and burner component damage. Falcon's VIP automatically prevents the burner from operating below the burner manufacturer's required voltage.
Hopper Access Step – This simple step provides easy access to the top of the hopper, making the cleaning and maintenance process easier and much safer. As with most options, we weld the step to the curbside of the frame.
Safety – We design all of our machines to have essential equipment accessible from the curbside. This includes tack tanks, controllers and unloading doors to keep your road crews safe and out of traffic.
Dual Burner Recycling Package – The dual burner allows you to recycle asphalt chunks and millings. You'll have access to hot mix year-round, even when the plants are closed. This feature comes standard on our larger machines but you can still add a second burner on our two to four-ton machines.
No CDL Driver Required – The Falcon asphalt patch truck does not require a licensed (and expensive) CDL driver. This unique feature is a massive advantage in a tight labor market and sets the Falcon patch truck apart from the competition.
Flexible Options to Meet Your Needs
Every asphalt job has unique needs. That's why we offer a full line of flexible options to customize equipment to make it exactly how you want it to be. We can add specific lighting configurations, tack tanks, recycling packages, and other bolt-on upgrades as required. Our modular options make customizing your hot box or patch truck quick and seamless.
We pride ourselves on our ability to tailor our equipment to meet your needs. For example, we offer many different types of lighting options and can design customized packages to fit any specification required for your operations.
We design all of our pieces to bolt directly onto the frame of each machine. If you purchase a machine and choose to pass on an option, you can always buy and bolt it on later.
Other useful options include:
Extended hitch
Hopper access step
Release agent basket
Asphalt rejuvenator and release agent
Dual burner recycling package (Standard on certain models)
Falcon Hot Boxes and Patch Trucks
Having the right equipment makes all the difference for asphalt patching. We designed our hot boxes and patch trucks to maximize productivity, safety, and efficiency. That's why leading municipalities and contractors rely on Falcon machines.
Most models come standard with a single burner unit. However, you can add an optional burner that immediately lets you recycle leftover asphalt chunks and millings. The proprietary cross-duct heating system allows your crew to melt old asphalt on-site evenly.
We design our hoppers to distribute heat at the perfect temperature for breaking down asphalt particles. High-density insulation locks in the temperature so crews can recycle millings into fresh, hot mix all day long.
Our hot box and patch truck lineup ranges from 2-ton models to 10-ton trailer units to meet your repair job needs.
Trailer-Mounted Asphalt Hot Box
Also known as a "dump box," the Falcon trailer-mounted hot box comes in 2, 3, 4, or 6-ton capacities.
These highly effective asphalt repair machines have many standard features, such as a smart controller, electric brakes with a safety breakaway, a battery charger package, and more.
Forget back-breaking shoveling from standard dump trucks. The Falcon asphalt repair trailer features an industry-first 33″ wide unloading door that minimizes worker bending and strain. The user-centric, waist-high design empowers crews to shovel material with best-in-class ergonomics and efficiency.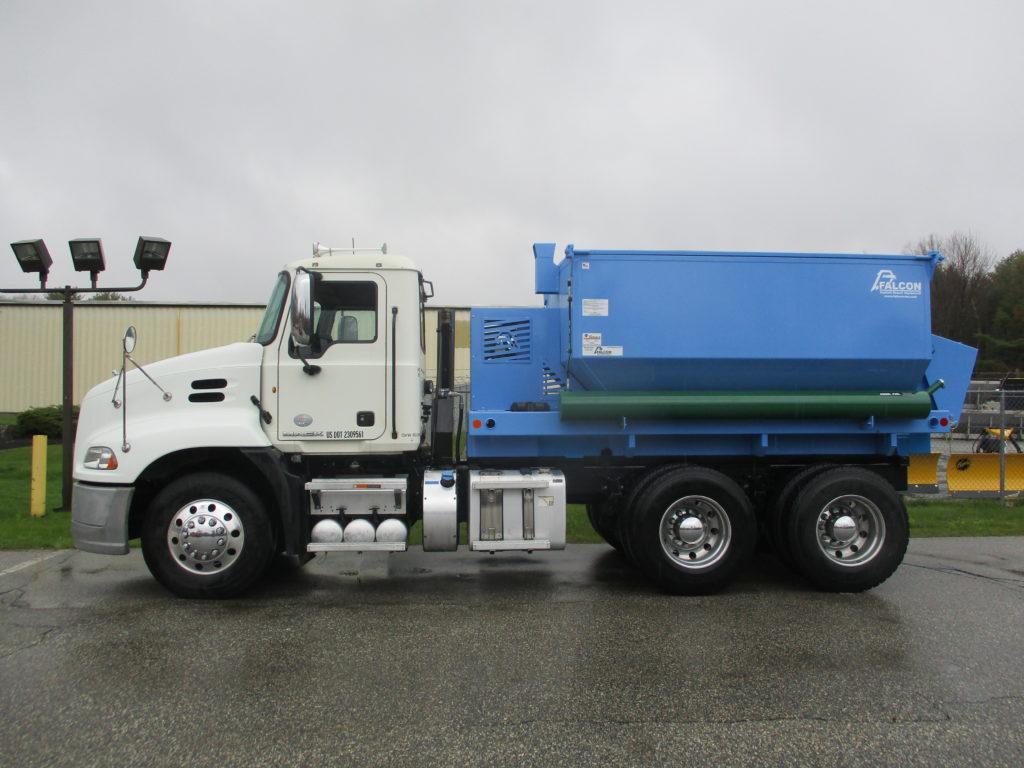 Truck-Mount Asphalt Hot Box
Our Truck-Mount Asphalt Recycler and Hotbox easily slides into truck beds. It comes in 2 to 10-ton capacities and fits many truck models.
You can configure it with a self-dumping or customized sub-frame for chassis mount, hook-lift, and roll-off systems.
Slip-In Hot Box
Navigate tight city spaces with ease. Our Falcon Slip-In Asphalt Hot Boxes eliminate the need for unwieldy trailers by mounting onto your chassis, hook-lift, or roll-off truck. Standard features like integrated tack tanks, compactors, and hot boxes minimize extra equipment needs.
Falcon Slip-In hotboxes come in a wide range of sizes—from 2 tons up to the industry's only 10-ton machine.
Chassis Mount Hot Box
The Falcon Chassis Mount Asphalt Hot Box is a game-changer for asphalt patching operations. It effortlessly slips onto the bed of a truck and comes in 2, 3, 4, 5, 6, 8, or 10-ton capacities.
The innovative design streamlines the patching process, allowing your crew to work more efficiently and effectively. With various customizable options, you can tailor the hot box to fit your specific needs and maximize your productivity.
Hook Lift Hot Box
Falcon's Hook Lift Asphalt Hot Boxes equip crews with maximum repair flexibility. The all-in-one design provides everything needed to patch efficiently. Sitting on the truck, they navigate tight city streets much more easily than trailers.
Hook lifts also enable multi-purposing trucks with interchangeable bodies. Operators switch between the asphalt hot box and salt spreaders rapidly. One truck can accomplish different jobs that typically need separate, dedicated vehicles—thereby saving time and money. Versatility empowers efficient operations.
Falcon Patch Truck
The Falcon Patch truck does not require an expensive CDL driver to operate. As such, any worker can drive it with just a standard license.
This game-changing and unique feature saves substantial time and money—especially in a tight labor market where drivers are few and far between.
We built our trucks to pair seamlessly with top chassis models from Ford, Freightliner, Hino, International, Kenworth, Mack, Peterbilt, and others.
Bring your own, or let us supply a compatible truck fully equipped for patching.
Our patch trucks deliver many advantages, including fast material delivery, incredible uptime, reduced worker injuries, improved fuel efficiency, and enhanced productivity.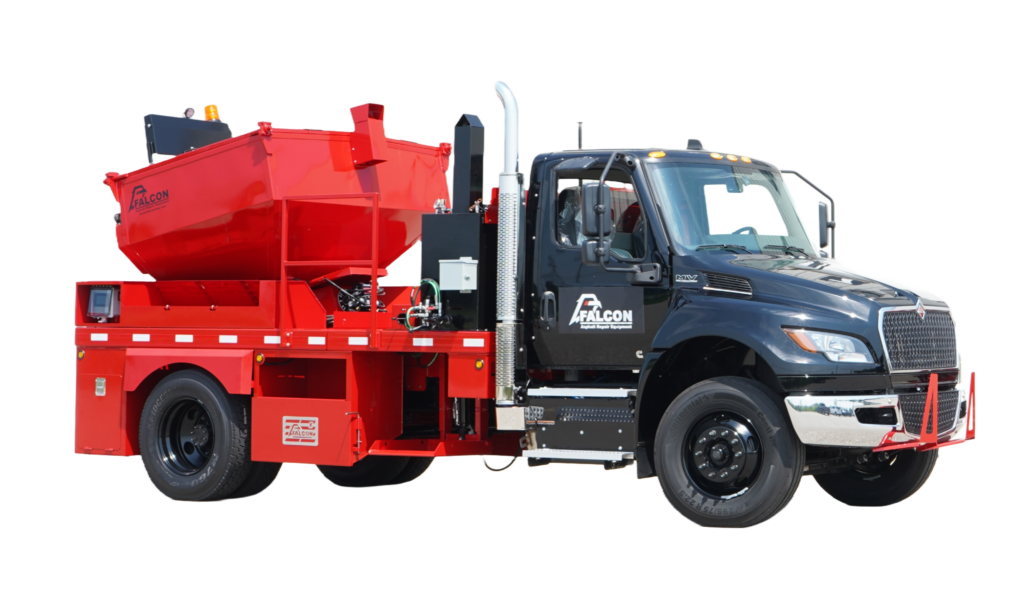 We use only premium components to ensure longevity and low maintenance requirements.
Discover How Falcon Can Transform Your Operations
Falcon asphalt repair equipment delivers unrivaled performance, reliability, and customization.
We're the gold standard in hot boxes and patch trucks—discover how to choose the right one for your operations by clicking the link below.