Asphalt Patch Truck (No CDL Required)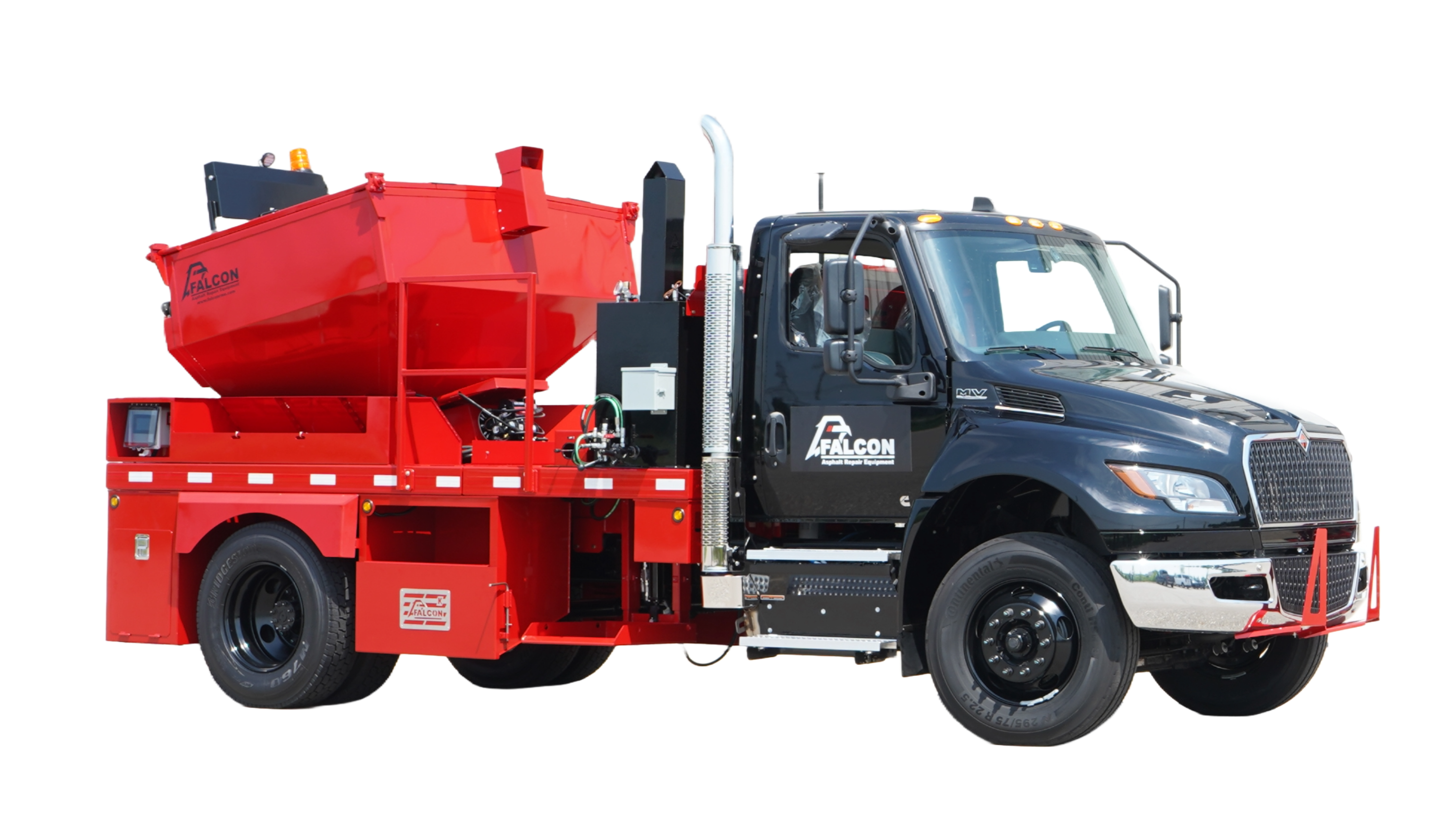 Falcon asphalt patch trucks offer unparalleled efficiency, ease of use, and maximum value for your investment.
We designed our 4-ton asphalt patch truck so that they don't require a CDL license to operate. 
This adds to significant cost savings in labor and regulatory compliance costs. If your primary driver calls in sick, another worker can easily take their place.
Thanks to the innovative design and 105,000 BTU Diesel Beckett burner, our patch truck can hold up to 8,000 lbs of material at optimal temperatures. 
Your workers will be more productive, efficient, and able to patch up to 80 potholes @ 1'x1'x4" depth.
No CDL Required
Falcon patch trucks do not require a CDL license to drive. This translates to substantial cost savings as you won't have to hire (and retain) an expensive CDL driver. Any worker with a standard driver's license can drive and operate the Falcon patch truck.
We designed and built our patch truck off prior equipment like truck chassis or trailer-mounted units. The Falcon non-CDL patch truck brings all that together in one super compact, efficient piece of pothole patching equipment.
We engineered the Falcon patch truck to work with several different Class 6 trucks, including:
You'll get the following standard features with a Falcon 4-Ton Asphalt Hot Box:
Ford F750

Freightliner MD6 106

Hino 268A

International MV
Kenworth T270

Mack MD6

Peterbilt 536/7
You can bring your own truck or we can supply one for you. If we provide the truck, the size, brand, options, etc. will determine the final price of the patch truck. If you have a different brand or model truck than listed above, call us and we'll help you figure out if it will work. We're happy to consider other alternatives.
Falcon Patch Truck Benefits
In addition to not requiring a CDL to drive or operate, there are many other advantages that Falcon patch trucks offer:
Flexible material delivery & speed—Falcon asphalt pothole trucks provide workers with the flexibility to determine the amount and speed of material delivery thanks to the largest gravity-assisted delivery doors on the market. 
Unprecedented uptime—Another key advantage of our asphalt patch trucks is their uptime. Unlike the competition, Falcon patch trucks don't run off an auger delivery system, so no hydraulic motors or pumps are required to operate. 
With fewer moving parts than a standard patch truck, you'll experience increased uptime availability and lower maintenance and operating costs.  
Fewer worker injuries—The ergonomic design means workers won't have to shovel material at physically awkward heights, which can lead to increased repetitive motion injuries and worker's compensation claims.
Increased fuel efficiency—Falcon asphalt patch trucks do not have a hydraulic motor or pumps to turn an auger. This translates to less fuel burned and more money saved over an 8-hour shift.
Improved productivity—Workers can hold material overnight, allowing them to start work first thing in the morning—instead of driving to the asphalt plant, which might be 30 minutes to an hour or more away.
High-quality parts—We build our patch trucks from the same guts, tack tank, and hopper of our other popular and durable trailers and asphalt hot boxes. We only use high-quality parts and components on our patch trucks.
Required Maintenance
Falcon patch trucks require very minimal maintenance outside of maintaining the burner and batteries. Like all patching machines, you must keep the asphalt hopper clean to ensure maximum performance and longevity.  
Falcon Asphalt Patch Trucks
A Falcon Asphalt Patch Truck will provide you and your work crew with an efficient means of keeping hot mix asphalt for the entire work shift and up to 48 hours overnight. The recycling and reclaiming feature allows you to save money and make fewer trips to the asphalt plant.
Contact us below to speak with one of our experts to learn more about if the Falcon Asphalt Patch Truck is right for your operation.