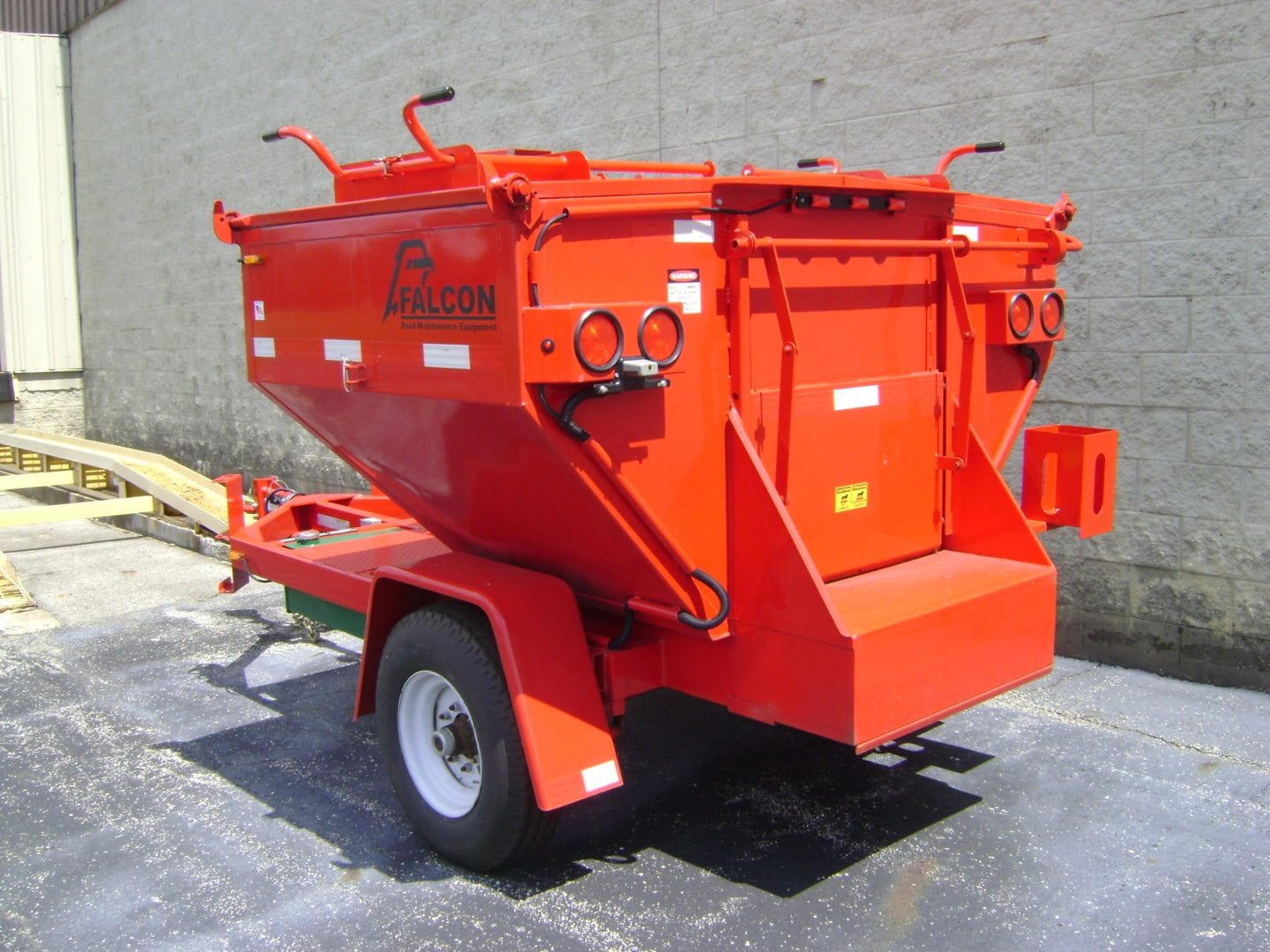 The Falcon 2-Ton Hot Box Trailer offers a cost-effective way of transporting asphalt and ensuring it stays at the optimal working temperature throughout the day.
The machine is small and easy to maneuver around tight areas, such as cramped city streets. It weighs under 10,000 lbs GVWR, so workers don't need a special license to operate.
Benefits of a Falcon 2-Ton Hot Box Trailer
Approximately 25% of all hot mix asphalt cools before workers can use it to perform repairs. Over time, this waste of material results in substantial financial losses as asphalt costs continue to rise. The Falcon 2-Ton Asphalt Hot Box Trailer has a built-in burner to keep the material at an optimal working temperature throughout the day and overnight.
Using a traditional dump truck instead of a hot box requires workers to shovel asphalt from an awkward height. Fatigue can set in quickly, and crew members run the risk of repetitive motion injuries. Falcon asphalt hot boxes allow laborers to shovel material from a much lower height, resulting in superior ergonomics and improved productivity.
Falcon 2-Ton Hot Boxes come with the following standard features:
12-volt battery

Single diesel or vapor draw propane burner

Smart controller

One-piece ceramic combustion chamber

Electric brakes with safety breakaway

Single axle w/ tubular steel frame (7,000 lb GVWR)
16″ tires

Manual loading and unloading doors

Battery charger package

16′ frame

2 red and 1 amber light per side
Optional features include:
Hydraulic dump function

Hydraulic loading and unloading doors

30-gallon tack tank with spray system and hose reel

Basket for mounting compactor

Wash-down system
Short frame – 14'

XL frame 18' & 20'

Hoist – manual or electric

Propane torch with bracket

Other customizable options
How Do Our 2-Ton Asphalt Hot Box Trailers Work?
The one-piece ceramic combustion chamber keeps asphalt at optimal temperatures throughout the day. Workers can also hold material overnight or heat and re-heat cold patch. All Falcon hot boxes come with built-in safety features, such as our Smart Controller with a patented VIP system that eliminates the potential for low-voltage damage and ensures a long lifespan.
2-Ton Asphalt Hot Box Trailer Image Gallery
Asphalt Repair Areas
Consult the chart below to discover which Falcon hot box will work best for your application.
| | | | |
| --- | --- | --- | --- |
| Type | Hotbox Size | Potholes Fixed | Pothole Depth |
| 2-Ton | 9′ x 9′ x 4″ | 80 | 1′ x 1′ x 4″ |
| 3-Ton | 11′ x 11′ x 4″ | 120 | 1′ x 1′ x 4″ |
| 4-Ton | 12′ x 13′ x 4″ | 160 | 1′ x 1′ x 4″ |
| 6-Ton | 15′ x 16′ x 4″ | 240 | 1′ x 1′ x 4″ |
The Falcon 2-Ton Hot Box Trailer will help decrease waste, increase productivity, and improve safety. It's the perfect choice for maneuvering around tight city streets while ensuring your work crews have what they need to get the job done right. 
Contact us below to learn more about which Falcon hot box is right for your operation.