Asphalt Dump Boxes & Recyclers
Product Info + Specifications
2 Ton • 3 Ton • 4 Ton • 6 Ton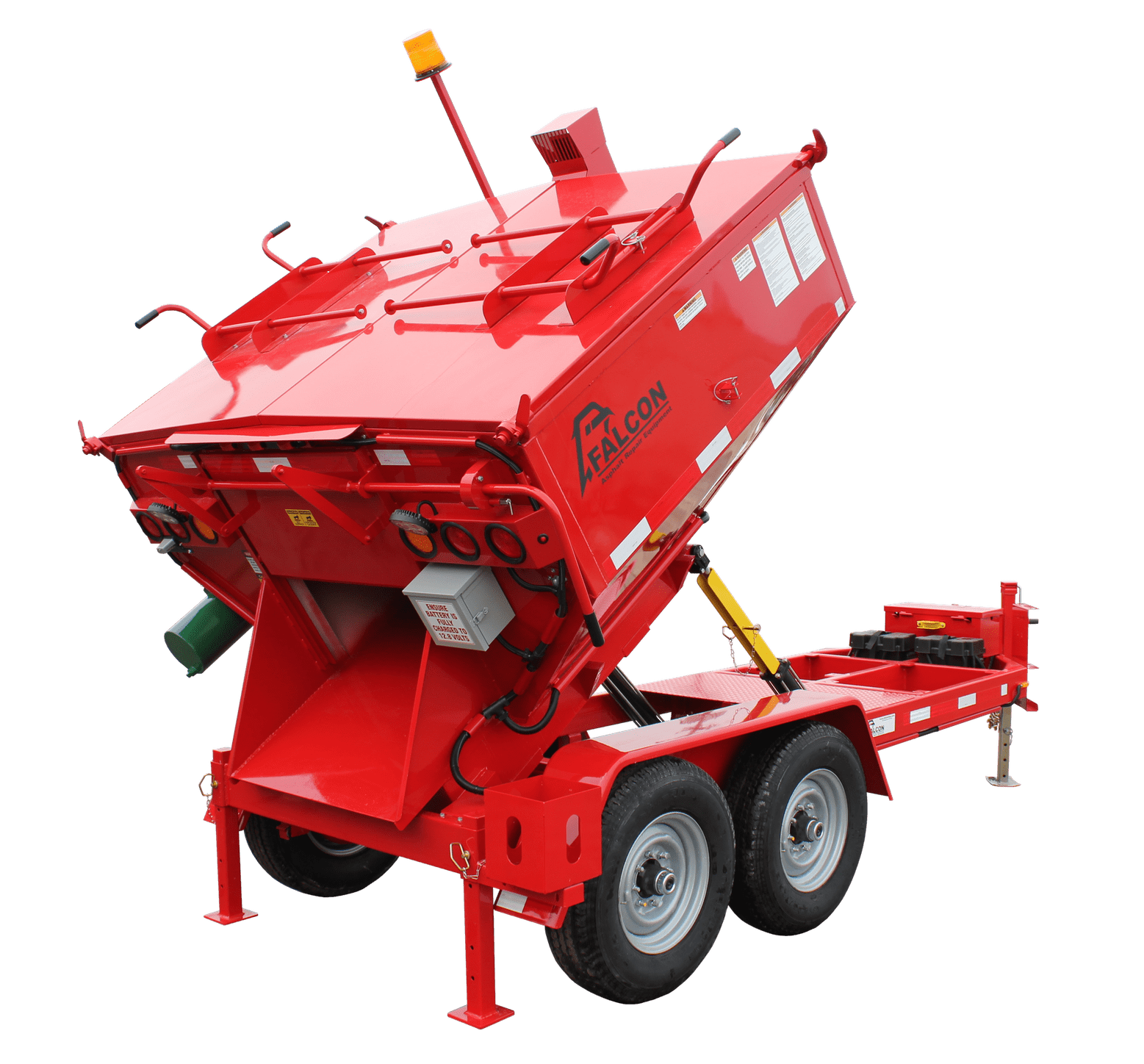 Falcon's most popular asphalt hot box & recycler dumps asphalt with the push of a button. By lifting the hopper, the dump box makes offloading asphalt easy. 
We build each dump box on a tandem axle trailer frame that cradles a lowered hopper. Body guides assist in keeping it centrally positioned. This design helps to ensure stability when raising the hopper.
We construct our dump box trailers with two hydraulic cylinders that raise the hopper and prevent twisting from an uneven load. This enables each cylinder to act as a safety backup for the other.
The dump box is available in 2, 3, 4, or 6 tons.
Like all Falcon models, a full line of options is available at purchase or aftermarket.
Benefits of Falcon Asphalt Dump Boxes & Recyclers
Falcon hydraulic dump trailers can maintain the temperature of hot mix asphalt for 72 hours. They also rapidly warm cold patch mix to a workable state. When built with two burners, our system can recycle asphalt chunks, millings, and virgin uncompressed asphalt. These innovative features make the Falcon Hot Box an asphalt reclaimer and recycling machine.
The burners operate on regular diesel fuel that you can refill at any gas station. This increases efficiency compared to propane-fired models and eliminates the need to drive around town to refuel. The patented combustion chamber allows the hot box to burn less than three gallons of fuel per eight-hour shift.
A Falcon trailer-mounted hotbox reclaimer has a much lower shoveling height than a dump truck. The reduced height lessens the physical strain on workers, enabling them to unload asphalt with greater efficiency.
How Do Our Asphalt Dump Boxes & Recyclers Work?
The patented technology in our truck-mounted asphalt hotbox uses radiant, indirect heat to break down leftover asphalt millings and chunks. As long as you have a two-burner system, follow these three easy steps to recycle asphalt:
Coat the hardened asphalt with a rejuvenator via the spray system.

Load the hopper.

Heat it at the lowest possible temperature overnight. 
The key to returning old asphalt to its original state is to protect the original oils contained within. Other recyclers will shoot an open flame onto hardened asphalt patching. This method burns off the original oils, releases black oily smoke, and creates hardened and unusable asphalt. 
The cross ducts and upper burner distribute heat throughout the center of the hopper. The high-density insulation allows for the retention of hopper heat required to break down asphalt. The combustion chamber shape and construction of a Falcon asphalt dump box yields around 92% fuel efficiency, making recycling very affordable.
Asphalt Repair Areas
Refer to the chart below to learn which Falcon Asphalt Dump Boxes & Recycler is right for your application.
| | | | |
| --- | --- | --- | --- |
| Type | Hotbox Size | Potholes Fixed | Pothole Depth |
| 2-Ton | 9′ x 9′ x 4″ | 80 | 1′ x 1′ x 4″ |
| 3-Ton | 11′ x 11′ x 4″ | 120 | 1′ x 1′ x 4″ |
| 4-Ton | 12′ x 13′ x 4″ | 160 | 1′ x 1′ x 4″ |
| 6-Ton | 15′ x 16′ x 4″ | 240 | 1′ x 1′ x 4″ |
Asphalt Dump Box and Recycler FAQs
Q: What is the purpose of an asphalt dump box?
A: An asphalt dump box transports and preserves hot mix asphalt from the asphalt plant to the job site. It ensures the asphalt maintains its temperature, essential for efficient application and optimal results.
Q: What is an asphalt recycler, and how does it work?
A: An asphalt recycler reheats and reuses old asphalt, transforming it into a workable mix suitable for patching roads. It works by heating the old asphalt, reducing its viscosity, and making it easier to apply and compact.
Q: What are the advantages of using an asphalt recycler?
A: Asphalt recyclers save money and resources by reusing old asphalt, eliminating the need to purchase new material. They also contribute to environmental sustainability by reducing waste and the demand for new raw materials.
Q: How does a dump box maintain the temperature of the asphalt?
A: A dump box utilizes high-density insulation and a heating system to maintain the asphalt's temperature. It can hold the heat for extended periods, ensuring the asphalt stays at the optimal temperature for application.
Q: How can a dump box improve the efficiency of workers?
A: The hydraulic dump trailer design utilizes a lowered height and body guides. This innovative design lessens the physical burden on workers and makes unloading the asphalt easier, faster, and more efficient.
A Falcon Hot Box provides you and your work crew unparalleled versatility. You can collect material from the asphalt plant in the morning and keep it hot throughout the working day. Additionally, the hotbox can maintain optimal asphalt temperatures for up to 48 hours, including overnight.
You can also transport cold mix and keep it warm during the colder winter months, making it easier to work with. You'll also be able to reclaim unused hot mix and recycled asphalt millings and chunks.
Contact us below to learn more about how a Falcon Hot Box will add value and find out which equipment is right for your operation.
Contact
2600 W Salzburg Rd
Freeland, MI 48623
Phone:  (989) 495-9332
Fax: (989) 495-9342
Sales:
(989) 495-9332
Service:
 (989) 495-9332