Repairing potholes can be costly and time-consuming if you're not using the right equipment for the job. Traditional asphalt repair machinery, such as dump trucks, offer very little in terms of ROI. This is why it's essential to focus on the return on investment to get the most out of your pothole patching equipment.
By selecting the right equipment and manufacturer, you can experience a far greater financial return than you otherwise wouldn't by using traditional methods. Falcon hot boxes and patch trucks are two such products that will add tremendous value to your patching operations—and bottom line.
Read on to learn more about pothole patching and how to improve your equipment ROI.
What Is a Hot Box?
A hot box is a specialized machine designed to transport, store, and maintain the ideal temperature of hot mix asphalt. By keeping the temperature between 250°F and 350°F, hot boxes ensure the material remains pliable and suitable for use over an extended period.
Falcon Hot Boxes take this concept several steps further with an innovative design and features that can significantly increase ROI over traditional methods, such as using a dump truck to transport and deliver asphalt material. Our hot boxes come in a wide range of sizes, including multi-ton trailers and truck mounts.
How Hot Boxes Increase ROI
It is widely believed that hot boxes can conservatively reduce the number of trips to repair the same pothole by a ratio of 3:1 – 5:1 or 60-80% saving in material and labor. It's also reasonable to believe that you can reduce material waste by 10-20%.
There are several other ways a Falcon Hot Box will increase your ROI:
Durability—All Falcon products, from our hot boxes to our patch trucks, use high-quality parts, components, and steel to ensure extremely long service life. We also incorporate many unique systems to extend the lifespan of our equipment, such as a standard Voltage Indicator and Protector technology.
Holding material overnight—When workers fill up a dump truck in the morning with piping hot asphalt, the material only has a few hours until it cools. Cooled or cooling asphalt is highly inefficient, wasteful, and ineffective when patching potholes.
Hot boxes allow workers to hold material overnight at optimal temperatures—for up to 72 hours. In addition to preventing the material from cooling, it also eliminates the need for sitting in traffic to and from the asphalt plant.
Instead, the crew just shows up at the job site in the morning with the material already at the optimal temperature for patching holes. Repairs will also last a lot longer if the workers use cold vs. hot asphalt.
Better ergonomics—Falcon Hot Boxes have a lower shoveling deck height, which significantly reduces operator fatigue while increasing efficiency and safety. A standard dump truck has a very high shoveling height, forcing workers to lift heavy shovels of material in a non-ergonomic manner.
Hot Boxes vs. Dump Trucks
Work crews have no way of keeping asphalt material at the optimal working temperature when using a traditional dump truck. The material begins to cool the second they drive away from the asphalt plant. Asphalt below a certain temperature becomes exceptionally challenging to work with and can slow worker productivity.
Dump trucks also have an awkward shoveling height. Workers are forced to lift a heavy shovelful of material over their shoulder height to remove it from the truck. This slows down productivity and increases employee fatigue.
Hot boxes, on the other hand, offer a much lower shoveling height. This helps increase worker productivity and can cut down on injuries. The hot box also keeps the asphalt material at the ideal temperature throughout the day and night.
Falcon Patch Trucks vs. the Competition
A traditional patch truck requires a driver with a CDL driver's license due to the vehicle's weight (over 26,001 lbs). The truck utilizes an auger and conveyor to move hot asphalt to the workers slowly.
CDL drivers are expensive to hire and challenging to find in a tight labor market. Falcon introduced our new patch truck that weighs under 26,001 lbs and does not require a CDL driver.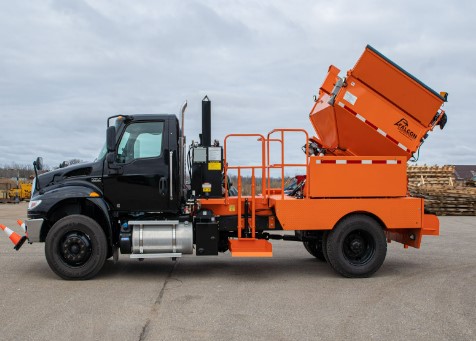 The Falcon patch truck utilizes a gravity dump to quickly and efficiently get the hot asphalt out to the operator.
Other benefits include:
Increased uptime
Fewer moving parts that require less maintenance
Easier access to the hopper for cleaning
More user-friendly design
Not only does the Falcon patch truck increase productivity by enabling faster and more efficient repairs, but it also significantly reduces long-term maintenance costs due to its lack of an auger/conveyor system. All of these features and benefits directly translate into a higher ROI than you would expect from a standard patch truck.
Choose the Right Equipment Manufacturer
Buying from the right manufacturer can significantly improve your ROI. Falcon has a proven track record of designing and manufacturing high-performing, heavy-duty equipment that stands up to the test of time. We also offer tune-up kits and service parts to keep our patch trucks and hot boxes performing like new for an extended time.
Our rockstar customer service team will provide top-notch service and after-sales support to ensure your complete satisfaction. Their extensive knowledge and prompt responsiveness will address any concerns, offer maintenance guidance, and ultimately contribute to an improved ROI.
Maximize Your Investment With Falcon Hot Boxes and Patch Trucks
Falcon pothole patching equipment offers innovative features that will maximize your investment and ensure a greater ROI. We build our patch trucks and hot boxes on a foundation of quality, durability, and innovation that translates into outstanding performance and increased productivity. Click below to see our complete line of asphalt repair equipment.
See Our Asphalt Repair Equipment Options